Your passengers can now tip you using their mobile
tippmee has created a genius idea to get you loads more tips!
Passengers can now scan your unique QR code or tap your NFC tag in your headrest cover to pay you tips during the journey via Apple Pay, Google Pay, Debit/Credit card.
We take a 1% transaction fee and pay out every Friday directly into your bank account.
We provide your personalised insert with your headrest cover. All you need to do is slip it over your headrest and you are ready to go! (headrest covers fit on all car headrests and are made from a highly durable elastic spandex)
Cab Drivers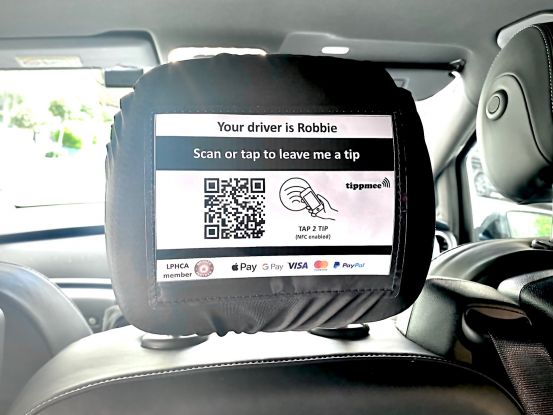 Headrest Cover
Your personalised headrest cover will be sent out 1st Class to your address you use in the sign up process.

Slip on your headrest cover and start collecting tips.
Per Year
Order now
Please allow 7 days for delivery
How it works

We provide you with a unique QR code and NFC tag on your insert

Passengers scan your QR code or tap your NFC tag

They tip you

You can login at anytime and check your balance

We pay you every Friday
What cab drivers are saying
Sham
Cab Driver
Passengers tip me using tippmee technology
Khalid
Cab Driver
Amazing service! its good to have an extra income
Thomas
Cab Driver
Very good service, thank you
Ali
Cab Driver
Wow...my tips have increased big time
Mohammed
Cab Driver
I have great times with my passengers and many of them give me tips. I don't have to do anything. Great idea!