Your customers can now tip you with their mobiles
Every time you deliver to the door you deserve a tip for your hard work!
tippmee provides you with your personalised QR code on 300 stickers for just £12. Your QR Code is connected directly to your bank account.
So, slap a sticker on every bag you deliver and start getting tips from your customers. Tips are paid by scanning your unique QR Code via mobile using (Apple Pay/Google Pay/Debit & Credit cards). 95% of your tips are paid into your bank account helping you with your cash flow.
tippmee makes it really easy for customers to tip you, some of our riders are making £100 + per month.
Slap, Scan & Tip

Order your stickers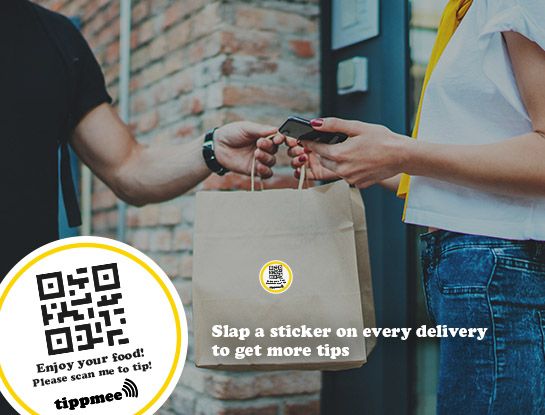 300 Stickers account
Your 300 stickers are white round self adhesive 51mm (each printed with your unique QR Code)

You get 95% of your tips paid into your bank account every day
One off Payment
Order Now
Please allow approx 7 days for delivery. Stickers are delivered to the address used in the sign up. £1.50 shipping
How it works

We provide you with a unique QR code

People scan your QR code

They tip you

You can login at anytime and check your balance

We pay you every day